SSO-CIC Roundtable Series: Immunotherapy For Microsatellite Stable (MSS) Colorectal Cancer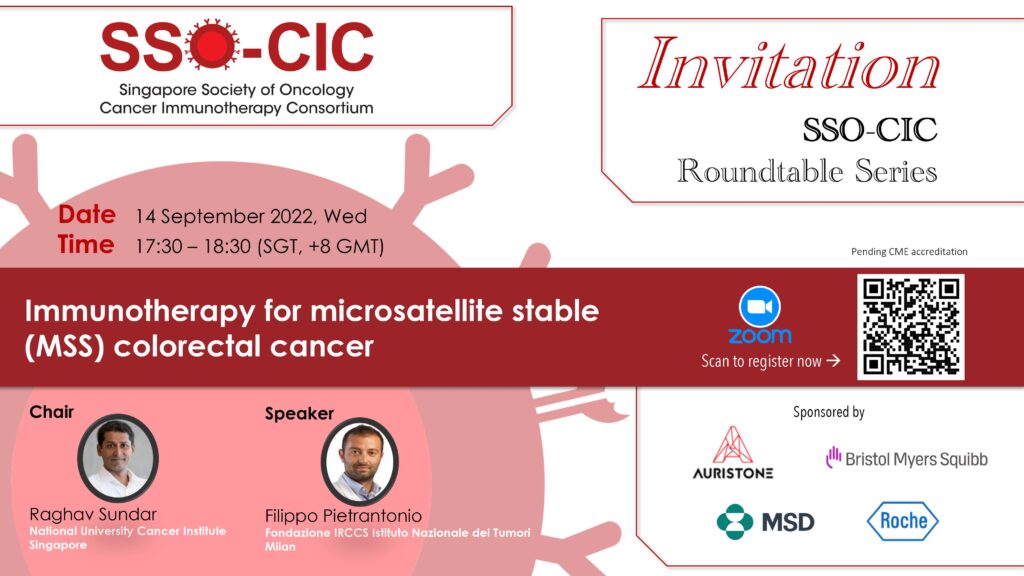 Dr Filippo Pietrantonio is a medical oncologist from Fondazione IRCCS Istituto Nazionale dei Tumori, Milan. He focuses on research and treatment on GI cancers, mainly gastric cancer and colorectal cancer. He also leads several translational projects and clinical trials aimed at improving patients' care and understanding the biology of GI cancers.
Immune Checkpoint Inhibitors (ICIs) and ICIs combinations in studies till date have not shown clinical benefit to patients with metastatic Colorectal Cancer (mCRC) who had proficient Mismatch Repair (pMMR) or Microsatellite Stable (MSS) tumours. In this webinar, he discussed various key studies such as AtezoTRIBE, which includes the addition of atezolizumab to first-line FOLFOXIRI plus bevacizumab that is safe and has shown improved progression-free survival in patients with previously untreated metastatic colorectal cancer. Next generation ICIs targeting the immune microenvironment such as Bexmarilimab, a novel anti-Clever-1 humanised antibody and GB1275, a CD11b modulator targeting Tumour Associated Macrophages (TAMs) from other studies were also cited.